Top Jeep Grand Cherokee L Accessories Madison OH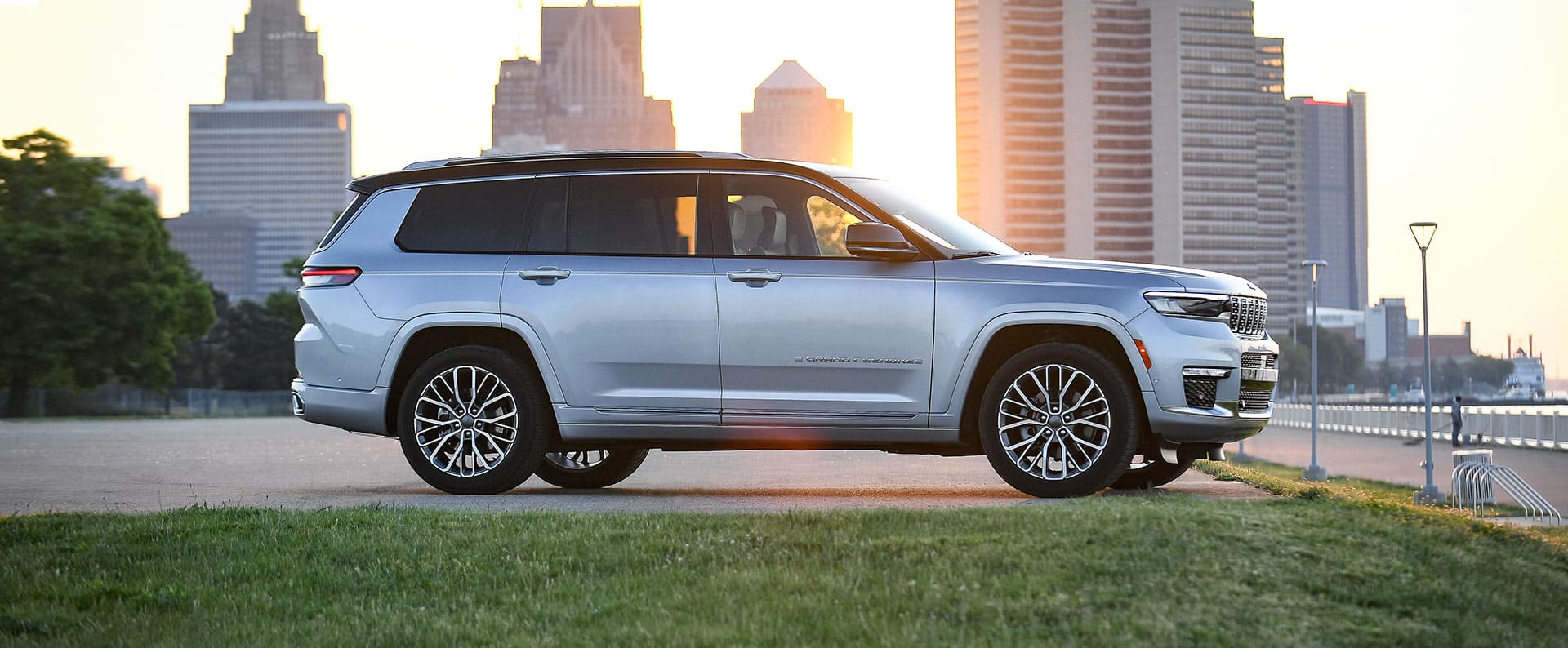 Top Jeep Grand Cherokee L Accessories
Make Your Jeep Your Own with Mopar Accessories!
The 2021 Jeep Grand Cherokee L is a whole new take on the previous Jeep SUVs we all know and love. For the first time, you can enjoy all the power and athleticism that the Grand Cherokee has to offer, but with three rows of seats and space for up to seven passengers! Not only that, but the Grand Cherokee L has several stunning trim levels, including the rugged Overland, and the luxurious Summit and Summit Reserve. The variety within the lineup helps each driver find the right Grand Cherokee L for their unique needs. However, if you really want to make your SUV your own, it's worth taking a look at the many Mopar accessories that have been specially designed for the Jeep Grand Cherokee L! With a few simple touches, you can really optimize your SUV to fit seamlessly into your lifestyle.
Protective Accessories
Whenever you make the decision to purchase a new vehicle, you'll want to make sure you can do everything in your power to keep it in great condition for as long as possible! In an effort to keep your 2021 Jeep Grand Cherokee L looking fresh and clean, there are several accessories that will protect different areas of your SUV. For example, there's a cargo floor mat for the rear of the vehicle, so you can load up the cargo area without any fear of scratches. Rubber floor mats make cleanup easy while also protecting the floors from passengers' shoes. Similarly, a pedal cover will keep the pedals looking good as new, and a license plate frame adds a crisp clean style while also protecting the plate.
Cargo Floor Mat
Rubber Floor Mat
Pedal Cover
License Plate Frame
Cargo Solutions
The Grand Cherokee L has a generous rear cargo area, and that space only gets bigger when you fold the rear two rows of seats down! To help keep everything organized for your journey, there are a few different cargo accessories to choose from. The cargo tote has four different compartments where you can sort your belongings and keep them safe in the back. The cargo basket can be strapped to the roof, and the net goes over the top for an efficient way to tie down your things. Similarly, the rooftop cargo carrier has a hard exterior that will keep out the elements during your drive. There's even a travel pet carrier that can be used inside the car to give your pet a place to stay, as well as taken out when you reach your destination.
Cargo Tote
Pet Carrier
Cargo Basket/Net
Rooftop Cargo Carrier
Rooftop Sports Racks
As mentioned above, the Overland trim is specially designed for off-road adventures, but every trim level of the Jeep Grand Cherokee L is very athletic, and highly capable, encouraging an active lifestyle. If you love engaging in outdoor sports, then the Mopar eStore has the accessory for you! There are specific racks that hold a variety of different equipment, so you know that your particular gear will be safe and sound up on the roof. Some of the racks available are kayak racks, winter sports racks for skis and snowboards, a surfboard rack, and of course, a bike rack!
Kayak Rack
Winter Sports Rack
Surfboard Rack
Bike Rack
Safety & Convenience
The last category we'd like to mention includes the accessories that Mopar provides to make driving your Jeep more convenient, as well as to keep you safe in all scenarios. Starting with safety, there are two different kits. The first is a fully stocked safety kit, and the second is for roadside safety including cones and other reflective gear. The Grand Cherokee L has an impressive 7,200-pound maximum towing capacity, and there are accessories to help make hitching up your trailer a breeze. There's a tow hitch ball, as well as a tow hitch adapter that assures a secure connection with various equipment.
Tow Hitch Ball
Tow Hitch Adapter
First Aid Kit
Roadside Safety Kit
Make An Appointment With Classic CDJR Today!
As you can see, there is a huge variety of accessories that you can peruse on the Mopar eStore. These simple additions will make a big difference for your Jeep Grand Cherokee L, and will keep all your belongings safe in the process. Ordering parts and accessories can be done right here on our website over on the service center page. You can also call or visit us if you have any questions about the best accessory to order for your SUV. If you want to have your parts and accessories installed, or for routine maintenance, be sure to make an appointment with us here at Classic Chrysler Dodge Jeep Ram either by phone, or by using the online scheduling form. We look forward to hearing from you soon!